Our 2019 - 2020Cleaning For The PAWS Campaign goal is to raise $30,000!
We'd appreciate your help this year! To contribute to our efforts to support Best Friends and rescue pet adoption, click the button below:
Green Planet Cleaning for the Paws campaign Donate here
The mission of Best Friends Animal Society is to bring about a time when there are No More Homeless Pets. They do this through building community programs and partnerships all across the nation, including their program with Chem-Dry. They believe that by working together we can Save Them All. To achieve this goal, Best Friends has been building effective programs to save animals for over 30 years – hosting adoption events, conducting public education campaigns and doing fundraising drives.

Every day, more than 4,100 dogs and cats are killed in America's shelters. Best Friends would like to reduce that number to ZERO by 2025.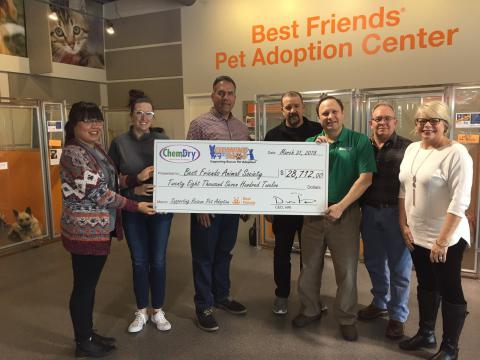 Please join us in supporting this worthy and important cause. Your donations go directly to Best Friends Animal Society and their No More Homeless Pets Network of over 1,500 shelters across the country.
To make a donation to Best Friends Animal Society® and help them in their cause to Save Them All, visit  www.chemdry.com/bestfriends.
To learn more about Best Friends and their No More Homeless Pets Network, visit www.bestfriends.org.